We are centrally located in a residential neighborhood in New Brunswick, NJ
On site parking is available
Comfort and convenience, high tech and low stress, are the hallmarks of Bloom & Bloom, DMDs' office operations. You will find helpful information below about our location, office hours, appointment scheduling, payment, insurance and financing.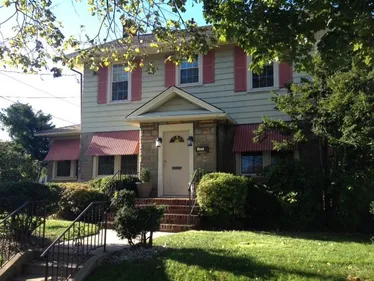 Bloom & Bloom, DMDs
815 Livingston Avenue
New Brunswick, NJ 08901
t. 732.249.6386 f. 732.249.6283
e. [email protected]
Appointments
We know you have many choices when choosing a dentist in New Brunswick, NJ. We want to thank you for choosing us as your dental health provider and value your confidence. Requesting an appointment is a simple process via our website. If you would prefer you can call our office at any time, (732)249-6386, to schedule an appointment. If you leave a message for us we will be happy to return your call; let us know when it would be convenient for us to call you back.
A word about appointments: In order to provide you and other patients with optimal dental care, please know that your appointment time with the doctor or hygienist is reserved exclusively for you. Therefore, if it is necessary to reschedule an appointment we require at least 24 hour notice.
Payment and Insurance
For private pay patients, fees for services at our office are due at the time of your visit.
We are pleased to offer a Membership Program for private pay patients.

Please note that we do not participate with any DMOs - dental maintenance organizations.
Dr Gari Bloom is an in-network provider with Delta Dental Premier. Although we are out-of-network with other plans, we will file your dental insurance claim for you at no charge. As a courtesy to you, we will estimate your portion of the fee, as well as deductibles and maximums. We ask that you pay your deductible and your estimated co-insurance as services are rendered.
Both Dr Charles and Dr Gari Bloom are out-of-network providers for most of our patients who have dental insurance. These patients choose to see Dr Charles and Dr Gari even though they are not in-network providers with their dental insurance plan. The reason for this is that as a patient of our office you can feel confident that the dental work you receive will be done to minimize the need for future dental work which translates to less time spent in the dental chair and lower cost. As long as you have out-of-network dental benefits you will receive reimbursement for the Drs. Blooms' services, based on your dental insurance plan's policy. Our office staff has over 40 years of experience working with dental insurance companies. Maximizing your dental insurance benefits is a top priority.
Although we gladly file dental insurance claims, any and all account balances are ultimately your responsibility.
Dental insurance is different than medical insurance and can be confusing. We will be happy to try and answer any questions you may have. Please also consult your employer and become familiar with your dental insurance plan.
Payment Options
We accept cash, checks and credit cards.

Financing Options


CareCredit is available to our private pay patients and to help pay for treatments and procedures your insurance does not cover. Through CareCredit we are able to offer no interest financing or low minimum monthly payment options so you can get the services you need, when you need them.
With three simple steps, including an instant approval process, it's easy to apply for CareCredit. After you're approved, you're free to use CareCredit for the services you choose. CareCredit can also be used for LASIK, veterinary services, cosmetic medical and dental services, hearing aids and more.

CareCredit is endorsed by some of the most credible organizations specific to each healthcare profession, including the American Dental Association, ADA. CareCredit has helped over five million cardholders get the healthcare treatments they want and need for over 20 years.
For more information or to apply online, visit carecredit.com
Thank you for choosing us as your dental healthcare provider. We strive to provide you with the the finest modern dental care in a warm, friendly, comfortable, caring environment.